UI / design d'information / UX
Dev web pour mobile : de bonnes idées pour remplacer le menu « hamburger »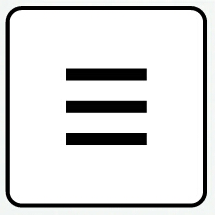 How to make your navigation obvious and keep people engaged
5 points à retenir pour un design d'interface lisible.
There's no one universal formula for a great UI app design (if you know one, please let us know). But we do know some major mistakes to avoid if you want to deliver a great app.
We've seen every one of these mistakes made by designers of all levels of experience. There's no shame in that—a good UI design is a multifaceted challenge, and many aspects can be simply overlooked.
At All In Mobile, we often redesign apps for clients who are not satisfied with their product and want to improve the way their app looks and feels. That's why today we want to share some major no-nos we've gathered.
Of course, we're about fixing solutions, not just pointing them out. That's why we'll also show you a redesigned app view list, demonstrating all 5 of these major UI mistakes—and how your team can fix them.
UI mistake 1: Abusing Fonts
De bonnes idées pour des bonnes UI. Souvent orienté par un objectif d'amélioration d'un taux de conversion pour un site marchant.
A

Good

User Interface

high conversion rates

and is

easy to use

. In other words, it's nice to both the business side as well as the people using it. Here is a running idea list which we're actively testing and writing exclusive stories about.